Love notes can play a huge part in keeping the daily fire going within a couple, so check out our 15 latest love notes for him!
Because when you are in love, there is great power in these little things – although variety is the key and saying "I love you" ten times a day can get a little repetitive. Leaving him love notes once in a while, whether they are original, funny, romantic, naughty or passionate will make for a sweet surprise that is shure to put a smile on his face, and it is also a cute way of proving your love. You can stick them on the fridge or on the bathroom mirror, slip them in the pocket of his jeans or hide them under his video game controller – depending on his habits, I'm sure you can figure out the perfect place to leave a love note for your sweetheart.
Love notes for him: 15 love note examples
You are the most beautiful smile I can remember, the greatest story that I can tell, but most of all the best man I have ever loved.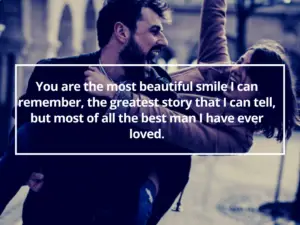 I love being in your arms so much, it makes me feel complete. I am like an orphan without you. Can't wait for tonight so that I can curl up against you again.
Ever since both our hearts beat as one, I feel like myself, my true self. I don't just live anymore, I truly and utterly exist and I have you to thank for that.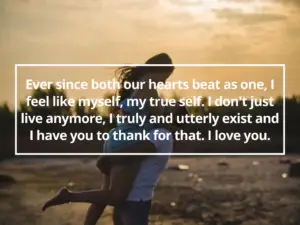 I think about you all the time my love, and it only makes my desire to be with you, to be held by your hands and kissed by your mouth stronger. Dying to be tonight.
Love notes for him: more sweet love note examples
I have long wondered which was the best day of my life, before I realized that every moment spent with you qualified as such! You are the most wonderful thing that has ever happened to me.
I had never felt such pleasure before, I had never experienced such desire. I had never loved anyone like I love you my love.
You make me feel beautiful, strong and unique. I feel like I am valuable in your eyes. Thank you for loving me so much, I can only hope the love I give you is enough in return.
I have loved you the moment I saw you, you inspire me, you fascinate me, you stimulate my heart and my soul, I love you like I have never loved before.
Love notes for him: 5 more love note examples
Ever since you came into my life, everything has become more beautiful, I feel like life is easier, and the sun shines brighter for me. Thank you for making all of that possible and for making me happy.
My heart is so filled with you that it could never belong to another. I love you without condition nor doubt.
Love was in the air, I totally lost my head and there you have it: we happened. The oxygen I breathe in has never tasted so good. I love you like I have never loved before.
Loving you is like breathing, I can't stop. I'm happy just to be able to love you, to breathe calmly everyday by your side.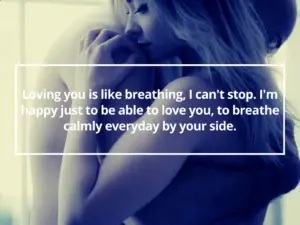 I love it when you yawn while we're watching a movie after dinner, and when you grumble in the morning when your alarm clock goes off. I love it when you struggle with the washing machine programs or when you decide to cook and our apartment fills with smoke. But I especially love it when you look at me, when you give me that secret smile that only you possess. I love hearing you laugh, and laughing with you. And I love the way you are with me, but also the way you are with others. I so love everything about you, please never change, my love.
For more love notes for him :
10 cute "thinking of you" messages for your girlfriend/boyfriend
20 powerful and emotional love messages for your boyfriend/girlfriend
Cute good morning text for him